Laminate Kitchen Benchtops
update your kitchen
There are lots of things to consider when it comes to replacing an old kitchen benchtop.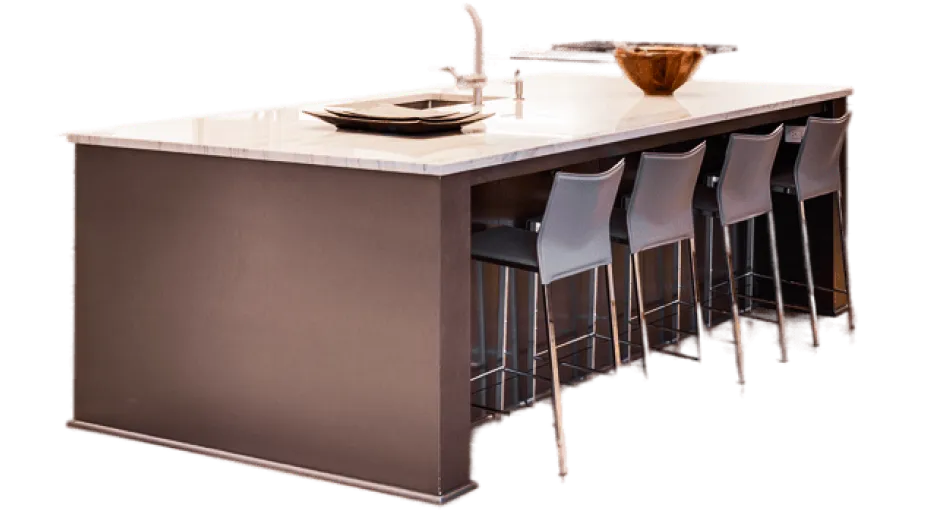 For many people the cost alone can make their decisions but there are other factors that come into play.
Laminate benchtops are made from plastic-coated synthetic materials making them the low-cost option for a kitchen renovation. Unlike stone countertops which are heavier and more difficult to cut to precise measurements, laminate reduces costs by being made from more readily available materials and by being a easier material to work with.
Beyond cost laminate bench tops are strong, moisture resistant and durable. When it comes to the most demanding environments laminate lets you rest easy knowing that your countertop is up to the hardest jobs.
Because laminate's are man-made they also come in the most diverse range of colours, patterns and textures allowing you to truly customise your kitchen. They even come in designs that mimic natural stone surfaces allowing you to have a benchtop that looks like granite at a fraction of the price.
View our laminate benchtop project gallery for inspiration or view our before and after laminate benchtop gallery.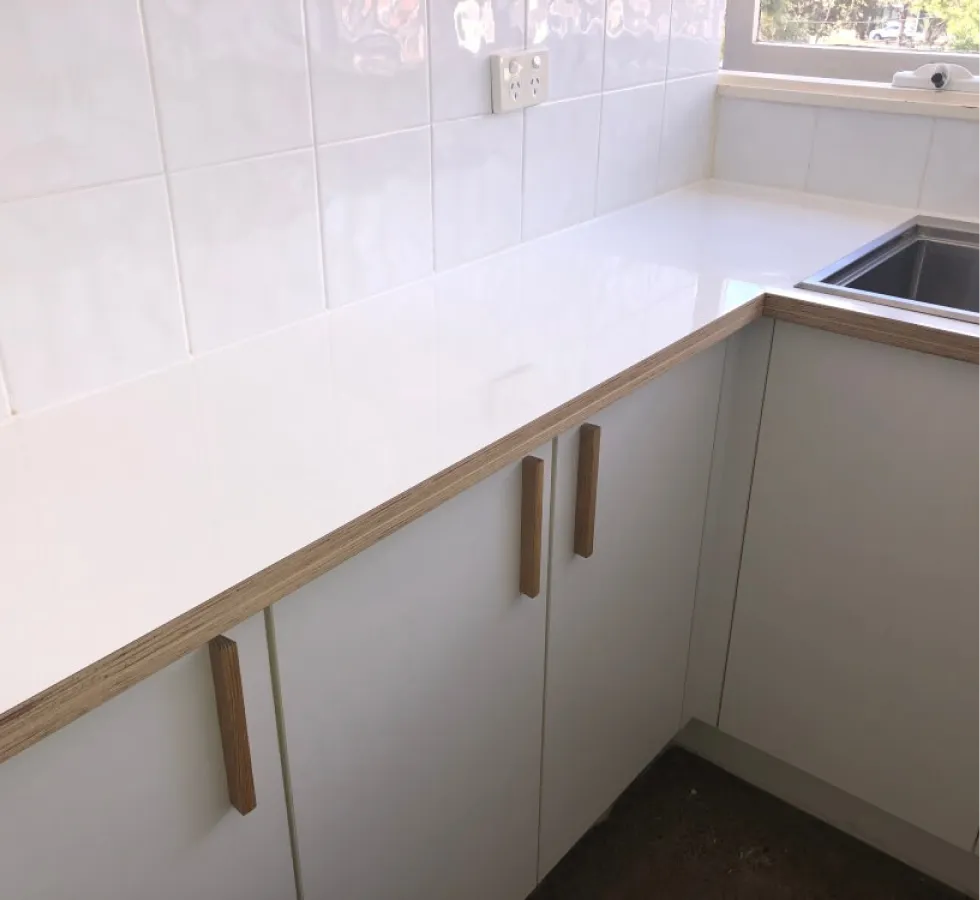 Replace your old kitchen benchtop with a laminate benchtop
If you're thinking of upgrading or Laminate Benchtop Replacement and bringing a new sense of life to your kitchen give the team at Just Benchtops a call and we can provide you with a laminex / laminate benchtop designed to fit the unique dimensions of your kitchen.
EXPLORE
Our curated collection of stunning benchtop designs today!
Testimonials
We highly recommend the great team at Just Benchtops. Luke and Kristy were reliable and friendly with prompt and excellent communication throughout. They explained process and costs at outset, no hidden surprises, installed within timeframe quoted. PLUS our benchtops look awesome!
Stefania Miller
2022-09-21
We are so thrilled with our new bench top. Luke did an amazing job right from the measure and quote, going above and beyond to give us styling advice and explaining how the process works. The installation was meticulous and everything looks awesome.
Luke and his team did a magnificent job of our benchtop replacement and glass splashback. It has transformed our kitchen to a modern, luxurious space which looks like it belongs in a display home! Professional and efficient right from initial quote through to installation, I can't recommend them enough. Thank you!! - Julie & Mick
Great job by Luke and his team. Our kitchen had the challenge of many angles and varied shapes. Somehow they managed to measure, cut and deliver to fit. It looks amazing. Thank you.
Luke and the team at Just Benches were very professional in measuring and installing our Ceaserstone benches. Fantastic. Jenny & Ian
Good value and good quality benchtops
Just Benchtops weren't the cheapest quote I got for my new stone benchtops, but were still competitive, and their reviews seemed very real compared with those on the website of the lowest priced offer, so I went with them and am so glad I did. Luke even turned up early to do the measure and quote, and the final job was absolutely top-notch quality, and ready within schedule. The installers were utterly professional and I would hands down recommend Just Benchtops for any stone benchtop work. We'll be buying a new house towards the end of this year and if the kitchen needs new benchtops I'll be back doing business with these guys again.
We are very pleased with our new benchtop, it has completely transformed our kitchen, making it more spacious and bright. Great experience!
peter Matthews
2021-03-04
They provided excellent service and product and we are very pleased with the result
I used Just Benchtops to replace my kitchen island. The advice and quality of work was excellent. All works were completed on time. Highly recommended.